Professional Roofing Services in Jacksonville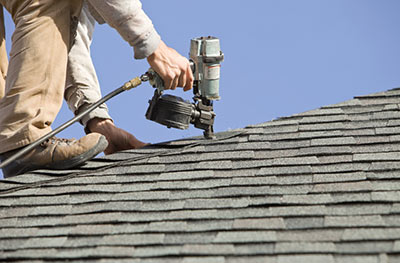 Our professional roofers can handle all of your roofing concerns, from repairs to replacement.
Quality roof repair and roof replacement for your home
Galaxy Builders, Inc. is your local roofing contractor for both roof repair and roof installation services. Our roofing services will help you protect your home in Jacksonville, Florida with high-quality roofing products and solutions that will last.
If you're dealing with roof leaks, shingle damage, or a roof that's worn out from age, contact the roofing experts at Galaxy Builders, Inc. today! We can help with roof repairs or a complete roof replacement to restore the structural integrity and aesthetic appeal of your roof.
Our roof replacement services
Is your roof past warranty, or is the damage too extensive or persistent to be fixed with repairs? Galaxy Builders, Inc. can install a replacement roof that will stay weatherproof, durable, and attractive for years to come. The benefits of replacing your roof include:
Better weatherproofing: Serious roof damage is usually caused by storms or falling trees. While even the most high-quality roof can still fall victim to the outside elements, a sturdy new roof will have a much better chance than an old, worn-out or past warranty roof. A roof replacement from Galaxy Builders, Inc. will help keep your home safe from wind damage, rain, and anything else the weather might bring.
Less money spent on repairs: If you find that your roof needs frequent, recurring roof repairs such as broken shingles or small roof leaks that just keep springing up, it's probably time for a new roof. The investment will prevent the need for repeated repairs and give you peace of mind that your roof is in good condition.
A fresh new look: When it comes to your home's curb appeal, a beautiful new roof can make a significant difference. Your home's exterior is the first thing people notice, and a roof replacement can be just the aesthetic upgrade that your home needs for better curb appeal and property value.
Products
Roofing Shingles
GAF offers three distinct levels of shingle quality and protection, plus a remarkably affordable slate shingle option. We'll help you select the one that is right for your home's design and location.
Three-Tab (3-Tab) Shingles
Affordable basic protection for projects on a limited budget.
Timberline® Lifetime Shingles
Protect and beautify your home with Timberline®, North America's #1-selling shingles. Timberline® shingles now have a lifetime limited warranty!
Designer Lifetime Shingles
Beautiful, stylish, and exceptionally durable, Designer Lifetime shingles will make your home the envy of the neighborhood!
Keep your home safe with roof repair
When disaster strikes, we can replace your badly damaged roof with a durable and weatherproof roof installation.
When your roof is showing signs of damage, no matter how large or small, it's important to call in a professional roofer to assess the extent of the roofing problem and determine the best solution. The sooner you take care of any roof repairs, the better, as roof damage will only spread and get worse if left unfixed.
Galaxy Builders, Inc. can help with fast, effective roof repairs for every kind of roofing issue. Typical reasons for a roof repair include:
Roof leaks causing water damage to interior ceilings and walls
General wear and tear on your roof
Storm and wind damage, or the impact of a fallen object
A roof deck that is sagging
Curling, cracked, or missing shingles
Stains or mold growth on shingles
As your go-to roofing company in Jacksonville and the surrounding areas, Galaxy Builders, Inc. is here for you when you need roof repairs or a roof replacement. Don't hesitate to give us a call or contact us online to schedule your roofing estimate and get started on your roof upgrades today!